MARPLE >> When it comes to beating her sister in a game of 1-on-1, Sydney Nihill likes to brag.
"She did the other day," Hannah recalled. "In my defense, it was freezing outside."
Sydney, 13, rolled her eyes.
"Well," she said, "you should bundle up." Hannah laughed, as if to say, "Good one, sis."
The two are inseparable. Sydney is Hannah's biggest inspiration. And they are best buds.
Since she was 11, Sydney has fought a few battles — both in the backyard with Hannah and in life. All the while, Hannah continued to excel on the hardwood at Cardinal O'Hara.
Cardinal O'Hara's Hannah Nihill is the 2016-17 Girls Basketball Player of the Year. (Digital First Media/Pete Bannan)
Hannah's story wouldn't be complete without Sydney, who has come a long way in a year's time.
"I learned that everyone has that inner-greatness. Sydney has it, and she has that inner-strength, too," Hannah said.
Hannah is the Daily Times Girls Basketball Player of the Year for the second year in a row. She is a three-time All-Delco selection.
Joining Nihill on the All-Delco team, which is selected after consultation with local girls basketball coaches, are Cardinal O'Hara teammates Kenzie Gardler, Maura Hendrixson and Mary Sheehan, Archbishop Carroll's Bella Sorrentino and Episcopal Academy's Elodie Furey.
***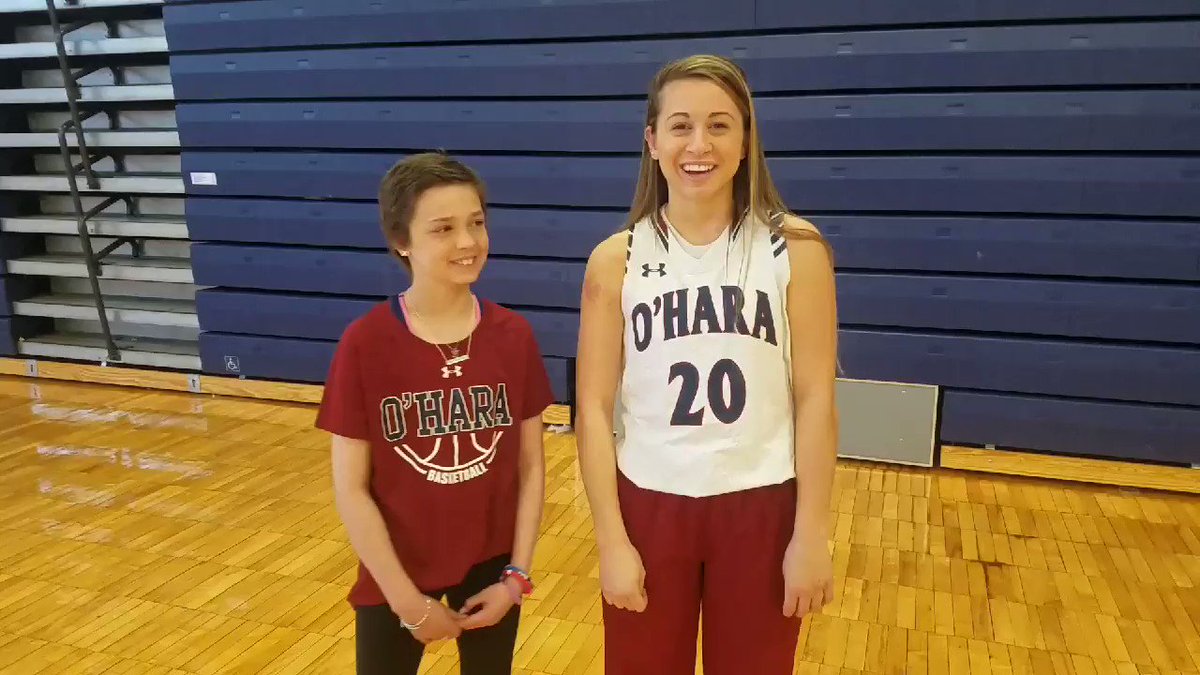 Matt Smith@DTMattSmith

Sydney and Hannah Nihill talk about their favorite things...about each other @OHaraGirlsBball #Sydthekidstrong
In the summer of 2015, while the Nihills were enjoying a Fourth of July vacation, Sydney suffered paralysis on the right side of her face. Rushed to a nearby clinic, she was diagnosed with Bell's Palsy. In the following weeks, her condition worsened. On Aug. 13, 2015, Sydney was diagnosed with Acute Lymphoblastic Leukemia.
It's been an uphill climb ever since, but Sydney has persevered, defeating the worst of the disease. By the time Hannah's senior basketball season rolled around, Sydney was recovering nicely. Today, she is feeling great, and undergoing treatment once a month at Children's Hospital of Philadelphia.
READ: The All-Delco First Team Capsules
"Now she's in the maintenance phase," said Jennifer Nihill, Sydney's and Hannah's mom. "The worst part is the whole procedure and how long it takes for her to recover. But they're assuring me that, hopefully, when it's all over, she'll be OK."
Sydney, who is a sixth grader at St. Bernadette in Drexel Hill, was in awe of the outpouring of love and support she received throughout her ordeal. O'Hara held fundraisers on her behalf, and Sydney was the inspiration for the #SydTheKydStrong hashtag on social media. The O'Hara field hockey and basketball programs made shirts donning the slogan. (Hannah is an All-Delco field hockey player, and the first athlete in school history to score 100 goals in field hockey and 1,000 points in basketball).
"I didn't know what to do. When I saw my name on the back of the shirt, I thought, that's really cool," Sydney said. "At the same time, I thought it was something really big. I really appreciated it."
Hannah Nihill soars past a pair of defenders during the PIAA Class 6A semifinal loss to Boyertown. Though the Lions didn't meet their goal of returning to Hershey this season, Nihill has plenty of accomplishments to look back upon. (Digital First File)
Hannah admits her junior year was extremely difficult. Sydney was in the eye of the storm, bedridden and fighting like crazy. Through it all, their mom said, Sydney was in high spirits. Watching Hannah play sports every chance she had was a big help, too.
"The games would snap her out of things," Jennifer said. "They have an awesome relationship. They helped each other out."
Hannah used athletics as an outlet. On one hand, she was angry and sad. But Hannah wanted to play well for Sydney. Every goal, every basket, every win was in her sister's honor.
"It was a tough time, my junior year," Hannah said. "I wanted to give everything I had for her."
***
Sydney was a mainstay at basketball games this winter, and participated in the post-game festivities at the Palestra when O'Hara defeated Archbishop Wood for the Catholic League championship.
In a touching moment, Hannah presented Syd with the basketball net the team had cut down to celebrate its victory. Sydney also took pictures with the team. She was very much a big part of O'Hara's journey.
"It was a fun and a very proud moment for me," Sydney said.
READ: The full list of All-Delco honorees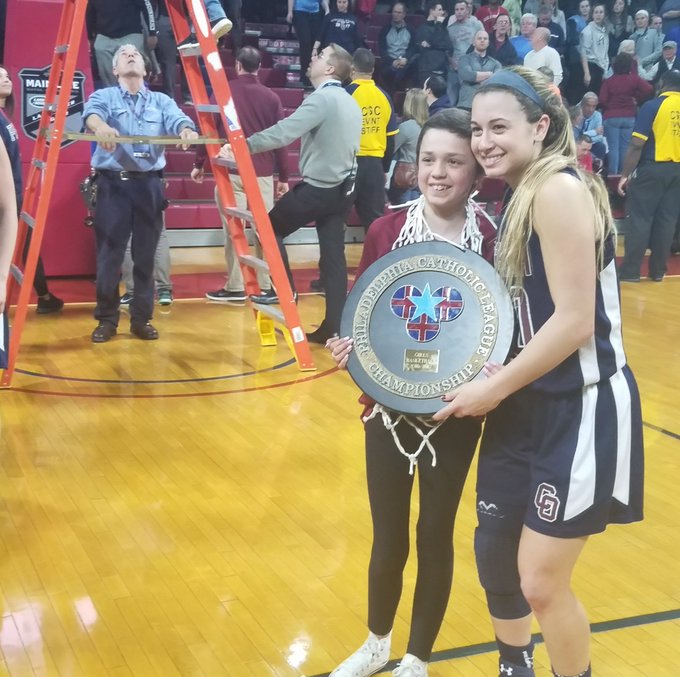 Matt Smith@DTMattSmith

Sydney and Hannah Nihill@OHaraGirlsBball
Hannah concluded her scholastic career with a trip to the PIAA Class 6A semifinal round. That, of course, was a major disappointment. The Lions were favored to head back to Hershey to play for a state title, but they ran into a very hot Boyertown team at the wrong time. Boyertown won the game on a last-second shot.
"I remember saying that our motivation at halftime for the Catholic League title was we were refusing to quit and this is our year," Hannah said. "Two games ago, the North Penn game (state quarterfinals), I remember walking to the foul line and Kenzie Gardler came up to me and said, 'Come on Hannah, you got this. It's our year.' Then I made the foul shots and we won the game.
"It kind of took us all by shock that we didn't win the other night. It was a great run."
Hannah went on to say that everything happens for a reason, and simply put, Boyertown was the better team — ever so slightly — on that night.
Sydney was bummed that she never had a chance to go to Hershey and cheer on her sister.
"I was so sad, only because last year I didn't get to go to Hershey because I was in the hospital, and I really wanted to go this year," she said. "But it's OK, because at least I got to come to all of the games and support her."
This season, Nihill averaged 12 points per game, second to Sheehan on the team, and was once again considered the best player in Delaware County. With a sweet left-handed shot and crossover move, Nihill was the perfect high school guard. She put forth many awe-inspiring moments the last several years, and she will go down in O'Hara lore as one of the best players to ever wear the uniform. Now she'll look ahead to a great career at Drexel University,
"When I look back on my four years here, I'm going to remember the people — my teammates. They were incredible," she said. "I've been playing with Mary Sheehan for the longest time, nine or 10 years. Having that era end, it's bittersweet. It's sad. Just to think that next year, we're going to be playing against each other. Me and Mary have been paired from the start, since stepping on this court together our freshman year. I'm definitely going to remember the friendship we made and all of my teammates."
***
Before Hannah goes off to college, the Nihill family will take a trip to Punta Cana, and the sisters will spend plenty of hours simply enjoying each other's company.
"A lot of the things we do together are laid back and not serious," Hannah said. "We like to do fun, weird things that no one would normally do."
You can bet that Sydney will be at most Drexel home games, too, rooting on her sister louder than ever before.
"I feel you age by your experiences," Hannah said. "At the end of the day, I'm a little mo